Wheel Throwing Or Hand Building Lessons By Appointment!
Provide (1) week notice to your desired appointment date.

Youth - Adult
All skill levels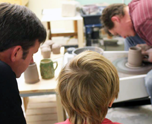 $40.00 an hour
$20.00 each additional person

Great for beginners & intermediate students who are unable to attend our classes and workshops.
• Scheduled by appointment during Open Studio hours.
• Clay, tool use, and instruction are provided.
• Kiln firing costs are additional.
• Gift certificates available!

© 2018 AA Clay Studio & Gallery