Local and nationally recognized artists are invited to share their technique and philosophy with us.
Our Artist Talk and Demonstration series are FREE and open to the public!
Emily Adams Olympia, WA
Exploration of Printmaking & Clay

December 20, 2017
Wednesday (6 PM)
Refreshments will be served!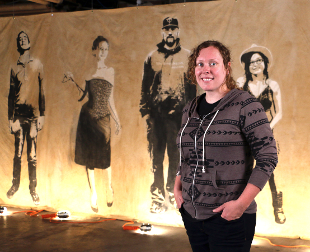 Emily L. R. Adams is a Louisville native who now resides in Olympia, WA. She is an installation artist, and printmaker. Her work combines found objects with lens- based images to inspire new dialogue. The essence of her work explores the dynamic of restriction and restraint within in the context of gender roles, societal norms, and conventional expectations. Her discourse calls into question how personal decisions are influenced by outside circumstances.
Adams earned her BFA from the Columbus College of Art & Design (2005), and her MFA from the University of Wisconsin - Madison (2015). She is a recipient of several awards including the David and Edith Sinaiko Woman in the Arts Award; her work has been featured in New American Painting Magazine, and MODA Magazine. She currently runs the print studio and teaches printmaking and drawing classes at The Evergreen State College.
In December of 2017, Adams will be fulfilling an artist residency at the AA Clay Studio & Gallery, where she will delve into applications of traditional printmaking processes applied to clay practices.
Artists Residency Exploration of Printmaking & Clay
AA Clay Studio; Louisville, KY December 19-21, 2017
Project Description
Working title, Transposed: Impressions
During this residency I will explore familiar printmaking techniques in the clay medium expressed in the multiple. My work will coincide with imagery that I am currently exploring across other artworks. Serving-ware vessels will be reconstructed by appropriating and transposing the existing design elements in clay.
Over the course of three days I plan to execute the following: Carved linoleum impressed into tiles or slabs. Screen print 'serving ware' designs/patterns onto tiles, slabs, or extruded forms. The slabs will be curved into shallow bowl-like pieces with feet. Additionally, I will establish a strong documentation of activity, in studio notes, photography, blogging, and filming of the artist talk to be given on Wednesday, December 20.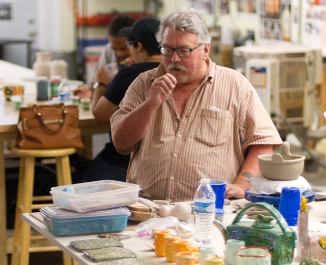 Wayne Ferguson Louisville, KY
Tea Bowls & Surface Decoration

October 9, 2017
Saturday (4 - 6 PM)

Refreshments will be served!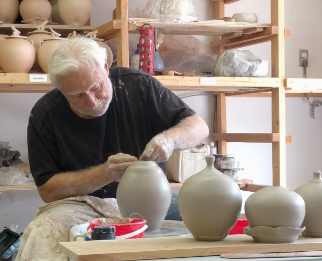 David Westmeier Bakersville, NC
Hollow Forms & Bottles

June 17, 2017
Saturday (10 Am - 12 PM)

Participation and teaching session ($30)
© 2017 AA Clay Studio & Gallery