AA Clay Studio & Gallery, conveniently located in south-central Louisville is operated by qualified artists. The studio is a shared working space with modern ceramics equipment. We offer classes, private lessons, and open studio access!

Open Hours Tu: 10-4 We: 4-8 Th: 10-4 Sat: 12-6 Sun: 12-4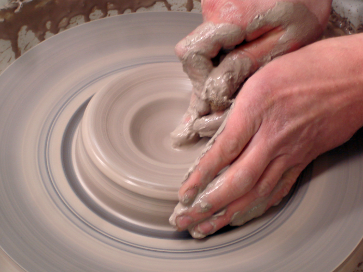 Beginners Welcome!
Our six-week classes are a complete experience.
• Instructors are degree certified, working, and selling in Louisville.
• Open studio time so you can practice skills to advance in the craft of ceramics.
• All materials, tools, and kiln firing included!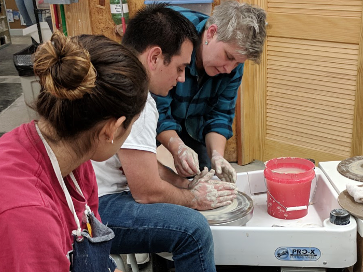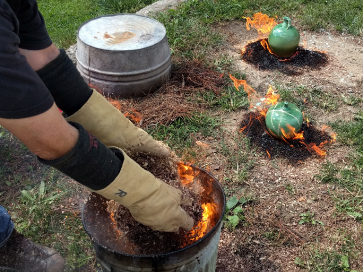 Public are welcome on firing day to see exciting results from the raku kiln!
• Participate by making items for the kiln and we will fire our things together.
• Meet at the studio prior to firing event to make items for the kiln.
• Some experience required. Projects are self directed.
• In case of rain, kiln-firing will be rescheduled. Raku ware is not food safe.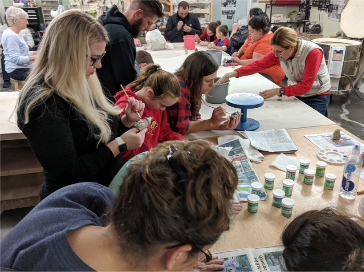 Group Events, Birthday Party, Team Building, Field Trips, Scout Groups!
Your group will be led by a studio instructor. Participants will experience the pottery wheel. Hand-building at the tables will be explained as your group is encouraged to have a fun time in our comfortable atmosphere.
• Includes: (2 hour) studio use, instruction, and clay. Firing costs are additional.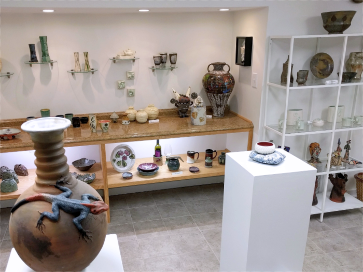 Support Local Artists!
Our gallery features an assortment of handcrafted ceramics from studio artists and master potters. Browse the online gallery for a selection of functional pottery and ceramic art for sale. Visit the studio for a tour and you will see artists at work.

© 2019 AA Clay Studio & Gallery