Date Night!
Wheel Throwing
Get a little dirty on Saturday night!
Scheduled on Saturday evenings (5:30 -7:00 PM).

Couples and friends are welcome to join us for an evening of fun, romance, and wheel throwing. Price includes kiln firing of 2 items. Price is for two people.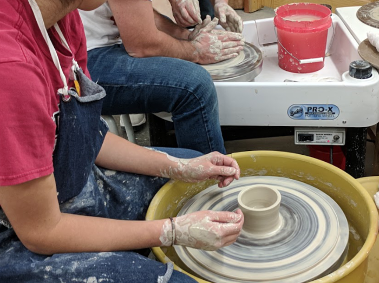 Great For Beginners!
The evening will begin with a demonstration at the pottery wheel. Followed by hands-on instruction. Participants will work at their own pottery wheel. Items made will be ready to pick-up about 3 weeks after event.

• Scheduled on Saturday nights 5:30 - 7:00 PM
• Clay, tool use, and instruction are provided.
• Kiln firing included (two items per couple).
• Gift certificates available!
$80.00 per couple
2 kiln fired items included. Items must be picked up 3-4 weeks after event.
Additional items for the kiln: $5.00 per item kiln-fired.

Please reschedule or cancel at least 1 day before the beginning of your appointment or you will be charged a cancellation fee of $25.00. Appointments must be made at least 3 days in advance.