Lessons By Appointment



Wheel Throwing / Hand Building
/ Date
Wheel Throwing or Hand Building Lessons by Appointment!
Provide at least 3-days notice to your desired appointment date.
Youth - Adult • All skill levels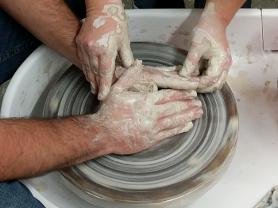 Great for beginners, intermediate, and advanced students!
• Gift certificates available!
• Scheduled by appointment during limited Open Studio Hours. (Thursday: 11 am - 3 pm).
• Clay, tool use, and instruction are provided.
• Kiln firing costs are additional.
$50.00 One Hour Pottery Lesson
Per person
*Optional: $10.00 per item kiln-fired.

Items must be picked up about 3-weeks after lesson.
Please reschedule or cancel at least 1 day before the beginning of your appointment or you will be charged a cancellation fee. Appointments must be made at least 3-days in advance.

© 2022 AA Clay - Ceramics Studio