Lessons By Appointment



Wheel Throwing / Hand Building / Date Night
Wheel Throwing or Hand Building Lessons by Appointment!
Provide at least 3-days notice to your desired appointment date.
Youth - Adult • All skill levels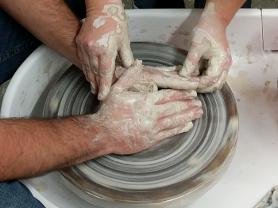 Great for beginners, intermediate, and advanced students who are unable to attend our classes and workshops.
• Scheduled by appointment during Open Studio hours.
• Clay, tool use, and instruction are provided.
• Kiln firing costs are additional.
• Gift certificates available!
$45.00 an hour
$25.00 each additional person
$5.00 per item kiln-fired (includes bisque/glaze firing)
Items must be picked up 2-3 weeks after lesson

Please reschedule or cancel at least 1 day before the beginning of your appointment or you will be charged a cancellation fee of $25.00. Appointments must be made 3 days in advance.

Book your lesson online today!
Schedule During These Hours:
Tuesday 10:00 - 4:00
Wednesday 4:00 - 8:00
Thursday 10:00 - 4:00
Saturday 12:00 - 6:00
Sunday 12:00 - 4:00
© 2019 AA Clay Studio & Gallery