Alex Adams makes pottery that is crafted with great scrutiny. Articulated forms are designed with a function in mind; wooden potter's tools and artist-designed stamps bring each piece to life. Subtle glazes break over stamp impressions to expose the creative energy that is stored in each handmade object.
Alex is a Louisville, Kentucky native who has devoted his career to the craft of clay. After high school Alex worked at Louisville Stoneware where he learned to operate the jigger wheel. In 2003 Alex entered Berea College where he learned the hand-crafted skill of wheel thrown pottery. After earning his B.A. in ceramics Alex visited some of the country's prominent clay art regions including Seattle, North Carolina, Ohio, Philadelphia, and Virginia where he saw inspiring ceramic technique and studio settings. This inspired Alex to return to Louisville where he has established AA Clay Studio.
Alex sells his functional items at local retail and gift shops in Louisville, KY. Alex makes and sells his work at AA Clay Studio; a shared ceramic studio where monthly memberships and Open Studio hours are available to artists in Louisville. The studio opened in 2013. Classes are facilitated in the space as well as lessons by appointment.

"The functional wares I produce are designed to be cheerful, useful, and sturdy!"
-Alex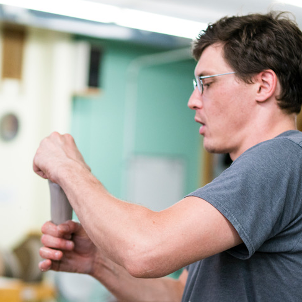 © 2023 AA Clay - Ceramics Studio