Sculpture / Hand Building
Skill Level: Beginner - Intermediate
No experience needed. Beginners Welcome!
Clay, kiln-firing, and use of tools are included in the course fee.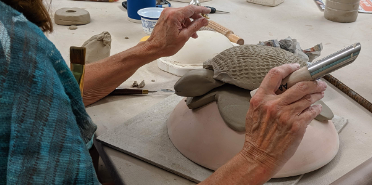 Six Week Course Outline
This hand building class will provide skills that will transfer to more advanced levels of ceramics. We will form clay slabs and coils into sculptural forms. The separate forms will be combined to make sculptural and functional objects. Students can decorate the surfaces with texture and colored glazes. Finished pieces will be food and dishwasher safe.

1. Slab and coil construction. Demonstration: wedging, slab rolling, press-molding, coil rolling, clay combining techniques. We will make organic and geometric forms using templates and molds.
2. Clay building. Slab and coil construction. Demonstration: construction of various three-dimensional forms, such as cylinders, spheres, ovals, boxes. Class continues making 3-D forms.
3. Combining forms and adding surface texture. Demonstrations: adhering one form to another and methods for surface treatment. Discussion: ceramic sculpture possibilities.
4. Final construction of forms. These can be simply sculptural or functional, such as vases and containers. Sharing of imaginative techniques among participants continues.
5. Glaze application methods. Demonstration: brushing and dipping techniques. We will apply stains and glazes to fired pieces from previous classes.
6. Wrap-up discussion. Completion of works in progress.