Hand Building / Sculpture
Skill Level: Beginner - Intermediate
No experience needed. Beginners Welcome!
Clay, kiln-firing, and use of tools are included in the course fee.
Up to 6 kiln fired items included.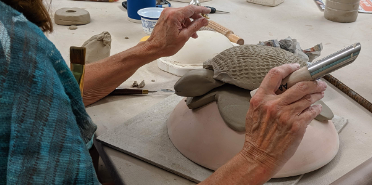 Six Week Course Outline
This hand building class will provide skills that will transfer to more advanced levels of ceramics. We will form clay slabs and coils into sculptural forms. The separate forms will be combined to make sculptural and functional objects. Students will decorate the surfaces with texture and colored glazes. Fired pieces will be food and dishwasher safe.
Up to six kiln-fired items included in course fee.

1. Wedging, air pockets, stages of clay, pinching, paddling, scoring and slipping, adding a foot ring or feet. Don't marry your pots.

2. Coiling, template outline, hump/slump mold. Finishing/cleaning the pot.

3. Wedging, soft slab, texture, bevel cutting, construction, drying conditions.

4. Alternative techniques: (varies by teacher) Example: Kurinuki technique (dowel rod opening the clay body) to make bottles.

5. Staining, under-glazing, glazing, stamping, waxing, sanding, brushes, dipping, the importance of test tiles.

6. Critiquing, pick-up finished pieces, completion of works in progress.
© 2022 AA Clay - Ceramics Studio