Raku Workshop & Kiln Firing Event
Saturday, October 14 (1-3 pm)
Make something for the raku fire!
Skill Level: Intermediate - Advance
Includes: Up to 2 pounds of raku clay, glaze, & firing
(1 medium or 2 small pieces per person).
• Participants will meet at the studio 2-weeks before kiln-firing event to throw or hand build using provided clay.
• Items will be bisque when you return for the kiln firing.
• Participants will apply provided raku glaze to their work.
• Studio staff will fire the kiln.
• Take home your kiln fired pottery on firing event day!
Saturday, October 28 (5-8 pm)

We will fire our things together!
Come out on firing day and see the exciting results from the the raku kiln. Bring a friend and check out the gallery and studio while you are here.


Kiln-firing event takes place outside.
In case of rain, kiln-firing will be rescheduled.
*Raku pottery is made for decoration and is not food-safe.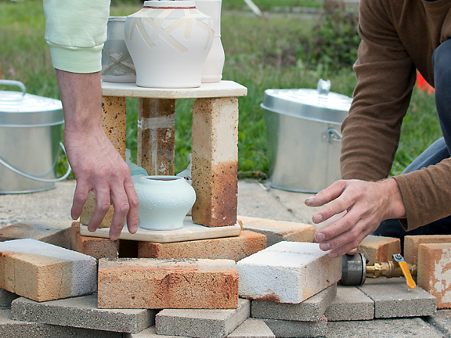 © 2017 AA Clay Studio & Gallery